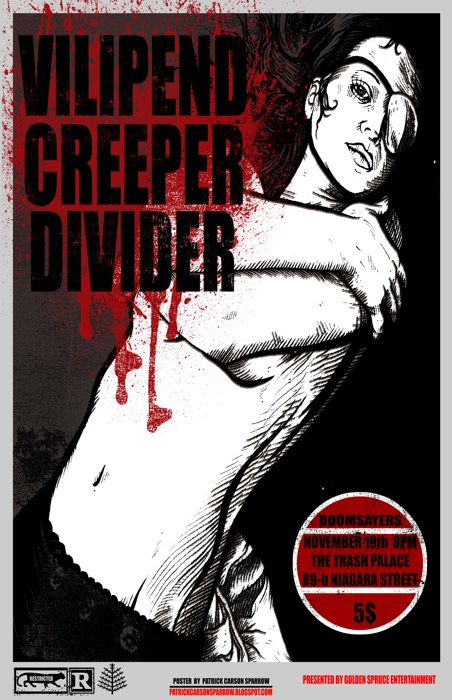 When: 19 Nov 2011 @ 8:00 PM
Where: The Trash Palace

How much? $5.00

This event is All Ages

The monthly Doomsayers performance series is back with a line-up of apocalyptic proportions! Sounds of destruction and doom will once again issue from the depths of the Trash Palace. Vilipend, Creeper, and Divider with conquer!
Facebook event: http://www.facebook.com/event.php?eid=159391384156579
Vilipend: http://vilipend.bandcamp.com/
Northern hostility.
Creeper: http://fuckcreeper.bandcamp.com/
Forward economic thinkers.
Divider: http://www.dividerandconquer.com/
Human and consuming.
Doors open at 8pm, bands on by 9pm, and all goes quiet by 11pm.
Good times, loud noises, and "cold drinks." All for only $5. We can't wait!
Presented by Golden Spruce Entertainment
Poster was designed by the lovely and talented Pat Sparrow.